Well, can you tell it's winter here in Fidget territory? I was humming along, making soup and minding my own business, when boom – I left home for 10 days around thanksgiving, caught a cold, landed a busy project at work, and needed to spend every spare second working on super-secret Christmas projects. Now it's practically too cold to type. But I'm catching up on blogging today, because our holiday frenzy is going to start in earnest when we head down to the Bay Area in about a week.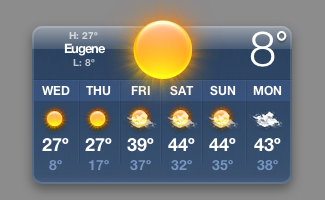 I grabbed this snap of the Weather Widget earlier this morning. Since that moment it's climbed up to a toasty 15° on its way to our high of 27° today.
BN and I decided a few days ago that this is our coldest winter in Eugene, and therefore our coldest ever, California natives that we are.
OMG IT'S FREAKISHLY COLD!!! The only way I'm warm is if I lie perfectly still in bed under our down comforter, with Mr. Furnace beside me.
It's exciting, but 43° and cloudy never looked more appealing. We just have measly little wall registers in our apartment and so we don't have the ability to actually make it "warm" in here. Now I'm off to make another cup of tea and put on another sweater. Catch ya later!